The next generation of autonomous vehicle computing improves performance and efficiency at the speed of light.
During today's GTC keynote, NVIDIA Founder and CEO Jensen Huang unveiled DRIVE Thor, a superchip of epic proportions. The automotive-grade system-on-a-chip (SoC) leverages the latest CPU and GPU advances to deliver 2,000 teraflops of performance while reducing overall system costs.
DRIVE Thor succeeds NVIDIA DRIVE Orin in the company's lineup, integrating the latest computing technology to accelerate the adoption of intelligent vehicle technology in the industry and target automakers' 2025 models.
DRIVE Thor unifies traditionally distributed functions in vehicles – including digital clusters, infotainment, parking and assisted driving – for more efficiency in development and faster software iteration.
Manufacturers can configure the DRIVE Thor superchip in a number of ways. They can dedicate all 2,000 teraflops to the autonomous driving pipeline platform, or dedicate part to AI and in-cab infotainment and another part to driver assistance.
Like the current-generation NVIDIA DRIVE Orin, DRIVE Thor leverages the productivity of the NVIDIA DRIVE software development kit, is designed to be ASIL D-compliant, and is built on a scalable architecture, allowing developers to seamlessly port their previous software development to the NVIDIA DRIVE Orin's latest platform.
Lightning fast
In addition to sheer performance, DRIVE Thor delivers an incredible leap in deep neural network accuracy.
DRIVE Thor is the first addition of a Transformer engine to the AV family of platforms. The Transformer Engine is a new component of the NVIDIA GPU Tensor Core. Transformer networks process video data as a single perceptual frame, allowing the computing platform to process more data over time.
With 8-bit floating point precision (FP8), the SoC introduces a new data type for the automotive industry. Traditionally, AV designers see a loss of precision when moving from 32-bit floating point to 8-bit integer data formats. FP8 precision facilitates this transition, allowing developers to transfer data types without sacrificing accuracy.
Additionally, DRIVE Thor uses upgraded ARM Poseidon AE cores, making it one of the most powerful processors in the industry.
Multi-Domain Computing
DRIVE Thor is as efficient as it is powerful.
The SoC is capable of multi-domain computing, meaning it can split tasks for autonomous driving and in-vehicle infotainment. This multi-computing domain isolation allows time-sensitive processes running simultaneously to run without interruption. The vehicle can run Linux, QNX and Android on one computer at the same time.
Typically, these types of functions are controlled by dozens of electronic control units distributed throughout a vehicle. Instead of relying on these distributed ECUs, manufacturers can now consolidate vehicle functions using DRIVE Thor's ability to isolate specific tasks.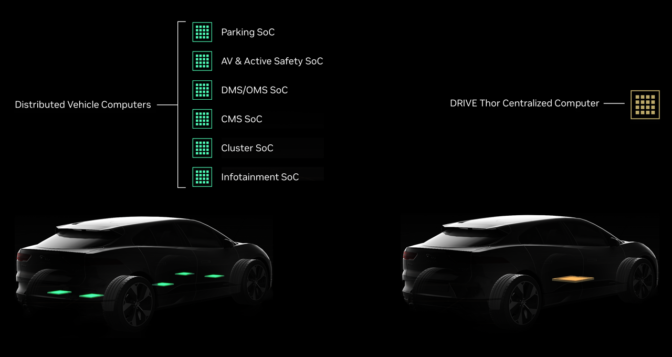 All vehicle displays, sensors and more can be connected to this single SoC, simplifying an incredibly complex supply chain for automakers.
Two are always better than one
If a DRIVE Thor seems incredible, try two.
Customers can use one DRIVE Thor SoC or connect two via the latest NVLink C2C chip interconnect technology to serve as a monolithic platform running a single operating system.
This capability gives automakers the computational power and flexibility to build software-defined vehicles that can be continuously upgraded through secure over-the-air updates.
Engineered with the best of NVIDIA GPU technology, DRIVE Thor is truly an AV SoC of heroic proportions.